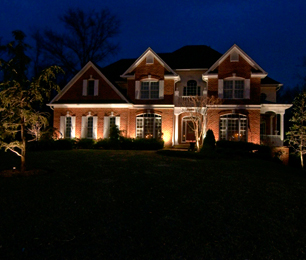 Feedback from our clients is more valuable than anything we could say ourselves. Below, testimonials from landscape architects, architects, custom builders, arborists and other industry leaders:
"I have used your firm previously on two jobs and I continue to be impressed with the workmanship and customer relationships that your firm performs on the job. They both were very pleased with you. I push your name out there every job I have. In the Vendors Binder that I give to my customers, your name is the only one that I have for Outdoor Lighting and Maintenance." — John duFief, John L. DuFief, Inc., General Contractor, Rockville MD

"I'm very happy with your company, Mark. Derek and Matt are working on a couple of new projects for me and are, as always, smart, responsive, easy to work with, and quick to get back to me with pricing. They are terrific about ongoing service with our 'older' customers, as well." — Cathy Carr, APLD, CPH, Principal, Greenheart Garden Designs, Silver Spring MD

"Derek Thomas has been a great fit for our company since the day we began working with him. He is diligent, makes valuable suggestions, and helps bridge the gap between our company and our clients to ensure the desired results. We could not be happier with his performance and look forward to continued success for years to come. One minor flaw… he is a Pittsburgh Penguins fan!! Boooo!!" — Brendan Kenny, ASLA, Scott Brinitzer Design Associates, Arlington VA

"I have told you over the phone how much I appreciate Outdoor Illumination's work and high quality customer service, but I want to follow up in writing. I know that your firm is comprised of many skilled employees but I want to recognize Derek Thomas for his knowledge, execution, and exceptional customer service on multiple projects. Other installers produce good lighting, but my experiences with Derek have been exceptional." — Cathy Carr, APLD, President, Greenheart Garden Designs, Silver Spring MD (excerpt; see full testimonial here.)

"Great American Landscapes uses Outdoor Illumination to install lighting and irrigation systems for our most discerning clients. Their prompt, courteous, and knowledgeable staff can handle everything we throw at them. From small, quaint patios, to large terraced lawns with towering oaks, their design, installation, and service is unrivaled. They are one of our most trusted partners, and we recommend them to anyone that asks." — Great American Landscapes, Potomac MD (via Houzz.com).

"I want you to know how much I appreciate the service I have received from everyone at Outdoor Illumination. Your company has been very good to me and Matt [Meiklejohn] in particular has been nothing short of fabulous. I rely upon him for all manner of advice and I am happy to say we are much more than professional colleagues. I have willingly recommended him to many of my trades and all of my clients seeking outdoor lighting." — Tom Tait, Thomas Tait Gardens, Washington DC.

"It's great to hear that your company is growing and improving. I'll continue to pass your name to clients for lighting. Last winter you installed a system for one of my clients in Bethesda. Job looked great." —Land Works, Inc., Silver Spring, MD.

"Your work is beautiful and I know your level of service would keep our clients happy." — Peter Murray, President, Hidden Lane Landscaping & Design, Herndon VA.

"For nearly 10 years, I have worked with Outdoor Illumination and every project is always a success. Thank you. You just finished another project for us in Bethesda and it looks great! If you ever need a recommendation, feel free to use my name. Your team's ability to design and communicate with our clients is always professional and you deliver a beautiful install. Thanks again for your help." — Geoff Kuck, Production Manager, BOWA, McLean VA.

"Love it. Great job. Thank you very much. The lighting is subtle, which is exactly what we wanted, yet it is a huge enhancement to the property. We can always add more later, as you suggested. Up-lighting the enveloping rear trees definitely gives proportion and scale to the house when viewing it from the front. It really helps create the overall sense of place that we desire." — Michael Banks, Banks Development Company, Bethesda MD.

"When my home's exterior was 'illuminated' I was thrilled with the results. Beautiful, practical, and installed without a hitch in what seemed like an impossibly short time frame. I get compliments on the magical effects almost daily (or, maybe nightly)." — Barry Dixon-ASID, Barry Dixon, Inc., Warrenton VA

"Just finishing up a project at my home office with Outdoor Illumination and I couldn't be happier with the results! I will be recommending them to my clients!" Margaret Upton, AIA, Upton Architecture, Kensington MD (5-stars, via Houzz.com)

"We know how important lighting is and we stress to our clients that lighting expands their use of their new outdoor rooms. We are always pleased to recommend Outdoor Illumination to our clients." — Scott Brinitzer Design Associates, Arlington VA.

"...[W]hen I recommend your company to clients, I am confident that they will be treated fairly and have a positive experience." — Chad Stern, Mowing & More, Chevy Chase MD.

"Thanks for the photo of the [Foscarini pendant fixtures]. I think they look just great, and I understand from Jackie that the rest of the lighting is wonderful as well ... From my standpoint, 3000 miles away, you guys couldn't have been better to work with. Thanks for your efforts." — Rob Steiner, Rob Steiner Gardens, Los Angeles (commenting on an installation in the DC area)

"All went well. Emails and phone calls returned promptly, appointments set and kept, work done in a timely manner. Very pleased." John Lowe, CR, GAC, Gilday Renovations, Silver Spring MD.

"You did such an amazing job with the lighting! We really love it. Can't believe it's our yard! The light at the large Elm in the back lights to the top of the canopy. Cool! Working with you and Outdoor Illumination was a great experience. Thanks again." — Richard Rossi, Rill Architects, Bethesda MD.

"When my wife and I decided to build our home at Figure 8 Beach, we had one requirement with our project: Use only the best of the best of contractors and suppliers. During our landscaping and night lighting selections, Outdoor Illumination made that selection a no-brainer for us. The company has been there to help us with any service needs we have had, which were few since we moved in three years ago. I hired Outdoor Illumination to do another job for us and never met them on the job site. I just gave them a budget and forgot about it. The team from Outdoor Illumination was a pleasure to work with and we love our night lighting." J. Rawl, Owner, Preston Development, Raleigh NC.

"Your guys were great! I didnít even know they were there. We love the lights and want more." — Richard Mandell, Founder and Principal, Sandy Spring Builders, Bethesda MD.

"Thanks for recognizing and following up on a job well done by Derek and the crew at Outdoor Illumination. They are a top notch outfit. There can always be problems but it's how they are handled that counts in the end. Your acknowledging their effort is much appreciated. And thank you, Derek and Outdoor Illumination for a job well done." — Richard Mandell, Founder and Principal, Sandy Spring Builders, Bethesda MD, in a note to one of his clients following a service/maintenance call.

"Working with Barbara was seamless, which is why I recommended you to the Hill Center. While I have not been out to the [other clients' home] at night, the Hill Center looks lovely." — Lisa Delplace, Oehme van Sweden Landscape Architecture

"Glad to be working with Matt [Meiklejohn] at Smith. You always get MY recommendation!" — Paul Staehle, Stadler Nurseries, Laytonsville MD.

"You do excellent work." — Anthony R. Wilder, Anthony Wilder Design/Build, Inc., Cabin John MD.

"Outdoor Illumination is the garden lighting installer that I most use for my clients. As far as Iím concerned they are the best artistically and technically skilled installer in town; they are sensitive to plant health and do superb, attentive work from start to finish at no higher pricing than provided by much less sophisticated installers. Outdoor Illumination focuses on enhancing natural nighttime effects through soft lighting, rather than strong spots or visible fixtures." — Dianne Seiffert, Dianne Seiffert Landscape Design, Bethesda MD.

"Your efforts are the final ingredients to enhance our pool project design. Great Job!" — Walt Williams, Owner, Alpine Pool & Design, Annandale VA.

"You guys make a regular pool spectacular!" — Duncan MacKeever, Crystal Pools, Rockville MD.

"Absolutely incredible!" — Burton Gray, President, Town & Country Pools, Springfield VA.

"It's always a pleasure to work with a good company, all the best" — Elin Haaga, Elin Haaga Landscape Gardens, Bethesda MD.

"I get the impression that when I refer Outdoor Illumination, the tree's health is going to be considered with their valuable service." — Stewart Bunn, Certified Arborist MA-0001, Bartlett Tree Experts, Fairfax VA.

"The lights your company has installed at my house have been great. The down lighting found up in the four large trees provides the yard with light that is not too bright. The wires installed for the down lighting have had no negative or adverse effects on tree health. The wires are set off the tree and the fasteners used to hold the wire are not impacting the tree health." — Ron Rubin, Certified Arborist MA-0057A, Thrive Plant Health Care Solutions, Reston VA.

"The result is the magical nighttime enhancement of my garden ..." — Suzanne Judy, The Edenist.

"Your company is the only one I recommend for outdoor lighting; your company is the best!" — Eric M. Wenger, President, Complete Lawn Care, Inc. and Complete Plant Health, Care Inc., Laytonsville MD.

"Anyone from your firm are stellar experts and I would be delighted to work with them. Regards, Sharon" — Sharon Ross, Landscape Designer/Horticulturist, Merrifield Garden Center, Fairfax VA.

"The result was lovely and beautiful, and sets off the garden at night." — Lisa Crippen, Merrifield Garden Center, Fairfax VA.

"I'm always very happy with your work - it's beautiful - and most importantly the client loves it." — H. Paul Davis, H. Paul Davis Landscape Architects, LLC, Washington DC.

"Many thanks again for your expert service." — Richard D. Crone, AIA, Crone Associates Architects, Chevy Chase MD.

"Thank you so much for your fine work." — Greg Wiedemann, AIA, Wiedemann Architects, Bethesda MD.
Feedback from our clients is more valuable than anything we could say ourselves. Below, testimonials from individual homeowners:
"Outdoor Illumination was recommended by my landscape gardener 10+ years ago. At that time, they designed and installed my garden lights. Magical! In the past five years, I've had them back, once to maintain the lights in the original garden, and this year to change things around as I had had a radical redesign. Last night, I saw the results … magic again. Thanks so much to the whole team at OI. From the office staff to the team who design and install, top notch work at what I consider reasonable prices."— Janice S. (via Yelp), Washington DC

"What a transformation. It looked great during the day when I got home and even better at night when the lights came on. The backyard has that "pop" it was missing. I appreciate the excellent service, hard work and follow up from you and your team. It has been a pleasure working with you."— N.P., Bethesda MD

"A huge thanks to Pete, Miguel and Julio for the great work on our lights. It was a small job but done quickly and efficiently by true pros. I sent an email to the general inbox over a weekend indicating it was a small job and wondered if you would be interested. I got a call from Pete the next day. He was in the neighborhood so came over 10 minutes later. In about 20 minutes, he totally understood exactly what we wanted. He made good suggestions (some of which I agreed with) and understood when I said I wanted to do a few things a little differently. He said he'd have an estimate within a week; he had it the next day. He said it might take a few weeks to schedule, but found the parts in stock and scheduled it for the following Monday. On Monday it was pouring rain, but Julio and Miguel and Pete were here at 7:30 as promised and then we all agreed they would come back a few hours later. They were done by the end of the day - you could barely tell they were here from the way the lawn looked. And they swept the steps! He came back the next day to deal with one minor issue he couldn't fix initially (and then promptly fixed it). He then sent an email when I asked for suggestions about landscapers for our backyard. I want to hire Pete for all my home repairs! I only wish you did more than lights. I literally cannot tell you how good this experience was. THANK YOU!"— D.F., Bethesda MD

"We are writing to express our appreciation for the manner in which Pete Strain has handled himself. He has been extremely responsive and has communicated well. Pete is very professional and has completed every task asked of him in a timely fashion. He is an exemplary employee and you should feel lucky to have him in your employ. We soule like to thank Outdoor Illumination for working with us. It has been a pleasure working with a company that deserves the highest praise."— D. & J. H., Washington DC

"We did a considerable amount of looking at companies, including landscape companies that we respected and in the end, there was really only one choice. Outdoor Illumination is heads and tails above anyone, not just in Wilmington, but also in the Southeastern NC area. Particularly after working with George, we were thankful that we did not go with anyone else. He simply knows what he is doing, never tries to oversell or even upsell. He listens carefully to what a client wants to accomplish and then sets about creating the best options to make it happen. He will provide good, better, and best scenarios based upon budget. We found that Outdoor Illumination deals in high quality products, but not over-the-top expensive unless you specifically request it. And finally, the company is as professional as it gets: they meet the schedule, are precise with their work and bend over backwards with good service afterward. That's what I know about Outdoor Illumination and George Hartner."— A.C., Wilmington NC

"We are absolutely thrilled. It's exactly what I wanted. On both the first job and this one, we have been extremely pleased with your work. We will recommend you to others - our neighbors are already asking for recommendations! - and will reach out to you for any lighting needs in the future. Thank you again for your great work!" — Washington DC

"Initial thoughts: lovely, almost magical." — Washington DC

"And at night, it's like being in another world. It really is wonderful and complements the house in many, many ways." — Gibson Island MD

"Outdoor Illumination is a great company. They did my outdoor lighting on a complete landscape renovation. They were fabulous to work with. Quality and timeliness of the work were excellent and their customer service is incomparable. They've come out to do maintenance since and their prices are reasonable and they respond very quickly. They recently expanded to do irrigation work as well, so I can get maintenance for both lighting and irrigation from one company. My highest recommendation." — Bethesda MD (via Houzz.com)

"We have had a lot of contractors work at our house and I don't think I have ever had two more conscientious, polite, competent, etc. people than the ones at our house working on our project. The entire process from meeting with you to communicating and completing our project has been the easiest thing we have ever done and we are thrilled with the results." — Washington DC.

"Thank you very much for the quick turnaround. Very impressive – I got home and it was already done. Tyler [Abrams, Sandy Spring Builders] was not kidding when he said you guys were the best." — Washington DC.

"Your team came out to service my front lights (adjusting and replacing bulbs). I can't tell you what a God-send it is to have those lights so my house is always lit when it needs to be! It gives me a real sense of safety and security especially now that the days are shortening." — Bethesda MD.

"Thank you so much for your note and the fact that you were 'on-call' Saturday night. However, you did such a good job making sure that everything was ready that the night went off without a hitch! It is an understatement to say that the grounds looked beautiful. The guests were entranced and we heard over and over again that is was the best wedding they ever attended. The lighting helped create that welcoming ambiance. Many people took midnight strolls along the lake and the bridge so the lighting was just right to make them feel safe exploring. Thank you again for working with me to put together something spectacular within my budget. Your sensitivity to my requests was noted and appreciated." — Potomac MD.

"OI is a great company. They did my outdoor lighting on a complete landscape renovation. They were fabulous to work with. Quality and timeliness of the work were excellent and their customer service is incomparable. They've come out to do maintenance since and their prices are reasonable and they respond very quickly. They recently expended to do irrigation work as well, so I can get maintenance for both lighting and irrigation from one company. My highest recommendation." — Client review via Houzz.com, Washington DC.

"We have been enjoying the lighting you installed on the front of the house a couple years ago, and I wanted you to know how perfect it is. We needed a very soft, yet highly illuminating lighting, and the up-lighting wash you installed for us has not only satisfied this perfectly, but we continually get compliments on how beautiful this lighting is. This, in addition to your crews always maintaining the lighting at its best, has given us tremendous satisfaction with your product. A huge thanks!" — Washington DC.

"I love the outside lights! They look awesome - particularly the lights on the stone post at the end of the driveway. Dave had the permanent pyramid cap installed yesterday. I'm really pleased with the finished look. Lights in the front of the house are great, too, and the photocells are all working as you described." — Fairfax Station VA.

"Matt Taylor and his team from Outdoor Illumination were amazing! Matt spent several late nights with my wife and me going over options on how to illuminate our home, our patio, and the multiple trees on our property. When we bought our home, you could not even see our home or the driveway at night from the street. Now, the lighting of our home, driveway, trees and patio make our home absolutely beautiful! Matt has come out several times since the installation to adjust the lights to make sure that they are aimed properly. [His] electrician came in and added several dimmer switches for us, ran cabling and wires and amazingly, there was ZERO carpentry work that had to be done as a result of his work - this means, no drywall repair, no paint repair - nothing! My wife and I could not be happier with the work completed by Matt and his team and now we have the oasis we've always wanted." — Washington DC

"At this point you are going from exceptional to perfection. We really admire your customer satisfaction focus. It speaks volumes of you and your company." — Kensington MD.

"I was outside drinking a nice glass of white wine, walking around my yard this evening, marveling at this lighting. What a great joy. You guys did a bang up job. My burning bush and Japanese maple are on fire. Thanks!" — Derwood MD.

"The adjustments that Kenny made were perfect. The lights make our landscape into a piece of art, and every time I come home at night, it's a nice welcome mat. I wish that I used your expertise and company before, because the previous company had no imagination. You were great. Over the years I heard many a sales pitch end after the sale was made. You were there before, during and after the installation. I have been very disappointed in the past when the communication breaks down between the owner, sales, and the people in the field. I felt you always had things covered. We needed your guidance and you were also listening to what we wanted. I'll be calling you again when and if we add a back patio, and if you need me as a reference, I'll gladly give it." — Silver Spring MD.

"We wanted to express our sincere thanks and appreciation to your company for the expeditious handling of our lighting situation which occurred following the June [2012] summer storm. Several of our large trees came down and had a significant impact on our lighting system. Matt Taylor came to the house, assessed the problem and had folks here within a relatively short period of time to rehang the downed lights. He was professional, considerate and very understanding of the project. In addition, Jhonny, who regularly comes out to service our lighting system, is also quite professional and a nice person and we trust his work and his presence around our home. Our house looks very nice with the lights and we thank you again for your great team of employees and for all the work expended here at our home." — Burke VA.

"Just wanted to express my appreciation for the work done at my home this week. The two-man crew that repaired, buried, and replaced various components to our system could not have been better. The electrician was especially helpful. I needed a particular component and it wasn't an item he had in his truck inventory. He said he would be able to return Thursday (today) and install it. He was true to his word - a true professional. Please pass on my sincere thanks to both of them as well as your management team." — Vienna VA.

"We have been so happy with our outdoor lighting. We had a previous lighting system that was a few years old and we were not very happy with it. The previous contractor kept pushing more and more lights and we were still unhappy. I was surprised when Mark Oxley came out and suggested less lighting with changes to the locations and type of fixture which made all the difference in the world. The improvement with Outdoor Illumination is essentially beyond comparison. From consultation to installation, adjustments, maintenance and follow up, they have been very professional and I can't imagine a better outdoor lighting company to work with." — Potomac MD.

"I want to congratulate Outdoor Illumination for having the best customer service of almost any company or vendor we deal with here at home. Since the day the system was installed, you have done what you said you were going to do. You completed the work on time, on budget, with high quality work. Your Maintainence program is one of the very best. (I only wish you also were a HVAC provider, a pool maintainence company and a landscape sprinker system company! ... We very much appreciate how professional and dependable you are as a company." — Washington DC.

"The whole project looks terrific. Looking at the backyard from the upstairs windows at night, it appears magical. And weíve gotten lots of compliments on the front yard, including one friend who asked if the evergreens in the front were new. I told him theyíve been there for years, but he apparently never noticed them before without the lighting. Go figure." — Washington DC.

"This is beautiful! Inspirational to say the least. It IS an extension of the garden into the night. And my lovely wife said, 'I like the way he came in, did the job quickly and finished,' (we've had trouble thru the years with people 'not finishing'). Anyway, great work." — Derwood MD.

"The lighting looks sensational!" — Potomac MD.

"... absolutely outstanding job ... exceeded my expectations ... I have also been impressed with the timeliness of any service work ..." — Great Falls VA.

"I have only positive things to say about your service and product." — Vienna VA.

"This is the second job that you (did) for us, we have been equally satisfied both times with the work performed and the follow-up service. We will not hesitate to highly recommend your firm." — McLean VA.

"An 'A+' contractor ..." — Potomac MD.

"Out of all the landscaping and home improvement contractors that I have used, your company was the only one that executed the entire project without any difficulties or last minute surprises." — Reston VA.

" ... the customer service provided is absolutely second-to-none." — Burke VA.

"We were very happy with the care that your staff took of our plants while locating the lighting fixtures. We would be very happy to provide references for the high quality of your work." — Washington DC.

"Give my greetings to Mark and tell him the lights are one of the best investments we have made. Because we enjoy going out into the garden at night, the lights have added to the quality of our lives." — Silver Spring MD.

"You were right: your low-level lighting system is very energy efficient." — Tysons Corner VA.

"Please let me know if any of your prospective customers would like to have a recommendation ..." — Falls Church VA.

"What a lovely scene with lites on our pathway! Your crew was efficient, polite and caring." — Arnold, MD

"You will definitely be my choice for future lighting needs." — Darnestown MD.

"... thank you and your staff again for your professionalism ..." — Arlington VA.

"The finished product more than satisfied my specifications. As you know, my attention to detail is quite precise!" — Clifton VA.

"Many thanks for a terrific job." — Silver Spring MD.

"Voltage problems due to bad wiring and undersized transformers gave an uneven and unprofessional look to my home. Enter Outdoor Illumination! Your crew, headed by Kenny, arrived early and worked late to correct all the problems ..." — Fairfax VA.

"In a year when I've had a lot of work done to my home, your performance was a bright spot!" — Fairfax Station VA.

"... thank you for your excellent job on our exterior lighting." — Oakton VA.

"Far exceeds my expectations (and I'm not easy to please) ... the quality of the work was fantastic." — Arlington VA.

"Your team, from design to installation, was the best contractor I have had the opportunity to work with during the remodeling of our home and grounds." — McLean VA.

"Two other landscape lighting companies told me it couldn't be done. Then Outdoor Illumination arrived on the scene. I rarely see landscape work done with the degree of expertise and care exhibited by your installers." — Kensington MD.

"Everyone from your outfit was superb!" — Alexandria VA.
Feedback from our clients is more valuable than anything we could say ourselves. Below, testimonials from commercial projects, including condominiums, hotels, commercial properties and public spaces:
"In my role as Board President, I work with scores of service providers who work at the Altamont -- contractors, electricians, plumbers, grounds maintenance, painters, HVAC specialists, engineers, pest control -- the list goes on and on. We have some vendors who are responsive, some who are not. Some are good at their job, some are not. All that to say, I know good service when I see it. You and your team at Outdoor Illumination are fantastic, and I wanted to let you know how much we appreciate it. You've been consultative, thorough, detail-oriented, fast, and highly capable throughout the process of working with you. I really appreciate your visiting the building late at night to trouble-shoot and see the effects of your work. Many in your position would balk at doing things like that, but you did so with a smile. And the result of your work is terrific -- the roof top in particular looks just smashing -- and many people have remarked on what an upgrade it is." — Wayne Connell, Altamont Condominiums, Washington DC

"To be within the lit spaces is magical and greatly enhances the nighttime experience of Dumbarton Oaks. We are pleased with every aspect of the work and look forward to years of enjoyment of the evening gardens created by Outdoor Illumination." — Gail Griffin, Director of Gardens, Dumbarton Oaks, Washington DC.

"The final product exceeded our expectations and the professional expertise Outdoor Illumination brought to this project allowed us to maximize the effect of the plantscape and architectural features in our indoor atrium." — Rob Oursler, General Manager, Embassy Suites Hotel, Washington DC.

"As dusk set again last night, here in the tree lined neighborhood of Woodley Park, a new and exciting display distinguished our properties, highlighting them as the cornerstone of thisÖcommunity. The work that your company did for us not only enhances and directs your eyes toward the landmark architecture of our properties; it has transformed these buildings into a sight to simply take your breath away! We have had numerous compliments on just how incredible the change is when looking at our buildingsÖ Surely, a small amount of magic has gone into your work, our once beautiful buildings have been transformed into spectacular objects of art, the people walking down the sidewalks at night, now slow downÖsmiling and nodding their appreciation, at the elegance and class that has been displayed for all to see, thanks to your illumination." — Shapiro and Company, LLC (Hampton House Apartments, Washington DC).

"Thank you for the installation you performed at Towson University." — Akehurst Landscape Service, Baltimore MD.