The Watergate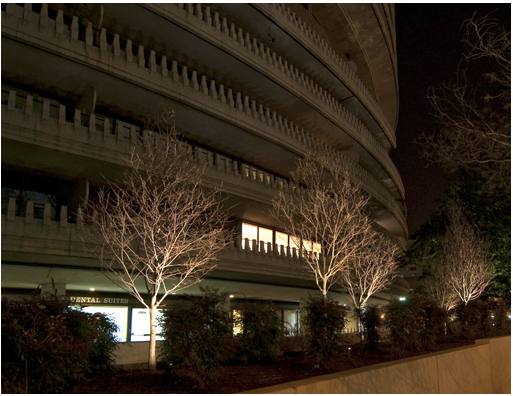 The Watergate may be the best known address in Washington. Constructed in the 1960s, The Watergate is a part of the streetscapes of Virginia Avenue and New Hampshire Avenue along the Potomac River. In order to enhance green spaces, Landscape Projects updated large streetscape planters on the sidewalks.
These green enhancements were unique challenges on a number of fronts, including the planters' size and weight; heat in the summer; extra windy conditions on certain corners; and normal city wear and tear. Soil in the planters needed rejuvenation; Irrigation needed to be installed and connected to water in 50 year old infrastructure; and other utility access needed to be considered.
Ornamental trees anchoring the planters combined with ribbons of ornamental grasses flowing through the streetscape, and roses are paired with changing seasonal plant palettes. Tree and plant placement were designed to convey a "flowing image" that reflects the winding Potomac River in view. River Birch, Crape Myrtle and Styrax Japonica offer year round interest, reflect the character of the site and are suitably durable to meet the demands of the site.
Fortunately, these trees also offer dramatic lighting opportunities. Their multi-leader structure combined with curvilinear limb architecture and exfoliating bark, makes for a dramatic lighting effect.
Landscape Projects and Outdoor Illumination worked in concert to get power to the lighting without mechanical elements such as wire or accessories being visible – and without disturbing plant material or existing structure. All this while the Watergate operated "business as usual" in the eyes of tenants and visitors. The result is a warm, welcoming streetscape for residents and guests alike.