Outdoor Illumination Lights Up the Night at the Sofitel in Washington D.C.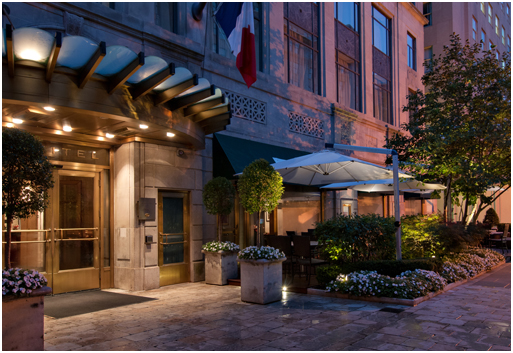 Each summer, the luxurious Sofitel Hotel on Lafayette Square in downtown Washington DC, creates an outdoor oasis on the broad sidewalks of 15th Street. The sidewalk is temporarily transformed into a composite patio deck and decorated with lush tropical plants and flower arrangements.
Recently, we were contacted by The Brickman Group and charged with creating atmospheric lighting that employed unobtrusive fixtures that could be integrated into the deck. The project required durable fixtures of a specific dimension. The installation was to be seasonal, so all aspects of the project had to be designed for easy removal.
From start to finish, Outdoor Illumination, Inc. had 60 days to complete the project. In addition to the short timeline, the unusually warm March weather allowed Sofitel to open its outdoor dining earlier than usual, which limited installation time to the early morning and late afternoon.
Using custom Hunza fixtures from New Zealand, LED uplights from FX Luminaire and LED MR16 lamps, the installation team finished on time and within budget. Despite all of the challenges, neither The Brickman Group nor Sofitel were inconvenienced, and the final result received rave reviews.
Read more about this project at LandscapeOnline.com.