Hampton House Transformed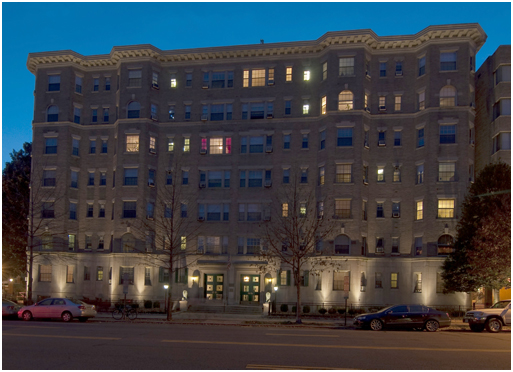 Hampton House is an historic apartment building on Connecticut Avenue in Woodley Park in Northwest Washington, DC. Representatives from Shapiro and Company contacted Outdoor Illumination with the goal of enhancing curb appeal and security for both current and prospective tenants. Our design team was challenged with meeting aesthetic objectives and engineering a durable installation in a high traffic area. The client was also very concerned about glare spilling into tenants' windows.
The result? Here is the feedback from our client, verbatim:
"As dusk set again last night, here in the tree lined neighborhood of Woodley Park, a new and exciting display distinguished our properties, highlighting them as the cornerstone of this…community. The work that your company did for us not only enhances and directs your eyes toward the landmark architecture of our properties; it has transformed these buildings into a sight to simply take your breath away! We have had numerous compliments on just how incredible the change is when looking at our buildings…
Surely, a small amount of magic has gone into your work, our once beautiful buildings have been transformed into spectacular objects of art, the people walking down the sidewalks at night, now slow down…smiling and nodding their appreciation, at the elegance and class that has been displayed for all to see, thanks to your illumination." Warmest Regards, Shapiro and Company, LLC
We love making clients happy!